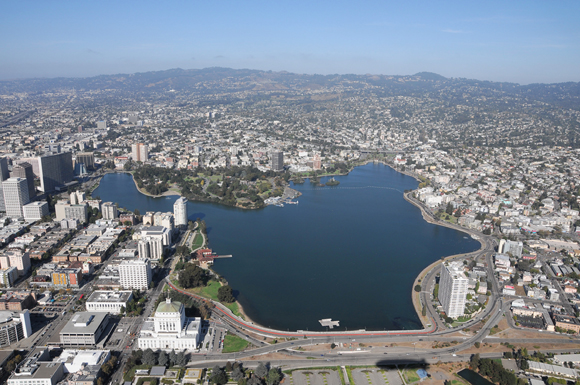 Aerial view of Lake Merritt, 2010. Photo by Bernard Zee.
ABOUT THE PROJECT
Centered at Lake Merritt in Oakland, California Once Upon A Time, Happily Ever After… is a three-part public art project produced by Scott Oliver. The project borrows its storybook title from the entrance to Children's Fairyland (a popular amusement park near the lake) and uses different forms of narrative to explore the complexity that comprises one of Oakland's most significant centers of public life. Needless to say the story of Lake Merritt is not one story, but many stories. While Once Upon A Time, Happily Ever After… does not (couldn't possibly) capture all of them, it does, hopefully, reflect the multifaceted nature of Lake Merritt as a place, and underscore the important role it plays in the fabric of the city.
There are three major components to the project: an audio tour guides listeners around the perimeter of Lake Merritt exploring the forces that have shaped, and continue to shape, the lake and our perceptions of it; interpretive signs present a variety of information and data about Lake Merritt and its surroundings, with an emphasis on the watershed, architecture, and natural phenomena; and a series of Lake Merritt souvenirs developed in collaboration with local students and artists highlight different aspects of the lake from individual perspectives.