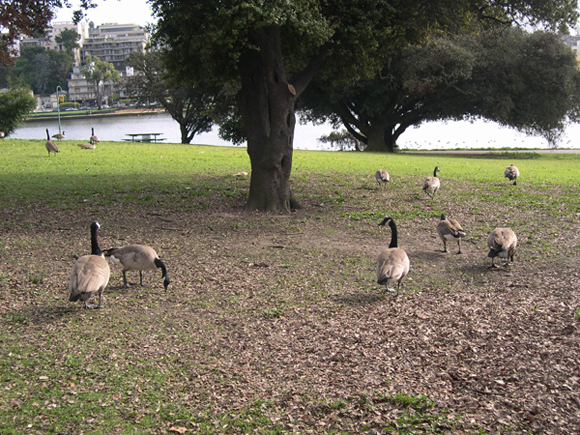 Canada geese at Lakeside Park.
PROJECT TEAM
Scott Oliver, Lead Artist/Producer
Scott Oliver is best described as a project-based artist. His work has taken many forms including in-home sculptural interventions, a symbiotic restaurant, a collection of discarded LPs, and an elaborate parlor game with students. Once Upon A Time, Happily Ever After… is his first large-scale public project.
Oliver received his MFA from California College of the Arts in 2005. He has exhibited nationally, and widely at venues in the Bay Area including the Oakland Museum, Yerba Buena Center for the Arts, San Francisco Arts Commission, Southern Exposure, and the de Young Art Center. Oliver was an artist-in-residence at SF Recycling & Disposal Inc. (a.k.a. the city dump) in 2007 and at the Headlands Center for the Arts in 2009. After 19 years in Oakland he recently relocated to Fort Bragg, California where he lives and works with his wife and their son.
Veronica Graham, Graphic Designer/Illustrator/Project Assistant
Veronica Graham is an artist, illustrative designer and interpretive cartographer whose work gains insight from the study of contemporary art, game design and iconography. In practice, Graham seeks to build experiential reconstructions of the world around us using self-made systems of representation.
Graham has exhibited her site-specific installations at CELLspace Gallery in San Francisco, Silverland Gallery in Virgina City, NV, and the Smith Recital Hall in San Diego. Her visual work has also been featured in numerous publications including San Francisco Bay Guardian, Shotgun Review, SF Weekly, Reno News and Review, and San Diego City Beat.
Graham is the illustrator of two books. The Map of Neighboring Territories, is part of an ongoing project exploring the interrelation of place, location, and time as depicted in antiquated cartography. Scaffold (I-XII), is a serial comic produced in collaboration with Jesse Eisenhower. It is the first book in a series of indeterminate length about an epic building project of pre-biblical proportions.
Graham lives and works in Oakland, California.
Michael Blodgett, Recording Engineer/Music Consultant
Michael Blodgett is chief engineer, and founder of Oakland-based Electric Sparkyland Recording Studio. He is also a producer, sound designer, composer, and musician. Blodgett began making recordings when he was still in elementary school with a mono cassette recorder. He has since moved from 4-track cassette, to 24-track tape, to ADAT—finally falling in love with HD digital, multi-tracked, disc-based recording.
As a musician Blodgett is a multi-instrumentalist with eclectic tastes. He currently performs and records with the bands Rootbeer and Everything Goes Cold.
CONTRIBUTORS
Matt Dibble, Videographer/Producer
Matt Dibble has worked in the field of documentary production since 1984. He first studied film at the Rhode Island School of Design, and his training as a visual artist greatly influences his approach to his work. He founded Dockyard to create original programming for television, as well as media installations for exhibitions.
Dibble has collaborated with dozens of producers on award winning programs as an editor and cameraman, and has tackled a wide range of documentary topics. He co-wrote and edited "The Mystery of Chaco Canyon," a one-hour show about the astronomically-aligned architecture of the ancient Pueblo Indians that aired nationally on PBS. "Rising Waters" explored the impact of global warming on the islands and communities of the South Pacific. And "New Metropolis," is a 2-part program for PBS on the history and politics of suburban sprawl.
Jesse Eisenhower, Graphic Designer/Web Programmer
Working as a designer and web developer in Oakland, California, Jesse Eisenhower also puts a lot of time into practicing art. Using temporally manipulative mediums like comics, sound, and video, Eisenhower produces works that seek to focus and condense human perception through an exaggerated reliance on linearity. In 2009 he collaborated on a comic with Veronica Graham called Scaffold (I-XII). Work on this comic will continue for many years and will be documented on Eisenhower's website (which he shares with Graham).
Rachel Heath, Photographer
Rachel Heath is a photographer whose work explores exchanges of power, agency and desire. Her most recent landscape work references the traditional western landscape: a grand vista, untouched by man, on which one can impose one's own presence and fantasies. She uses historic processes and stylistic conventions as an act of remembrance, of remaining in conversation with photographers across time. Heath attempts to humanize the landscape and include man's mark on nature in her subject matter. Her intention is not to exalt the landscape by hiding the signs of human influence, but rather to find beauty in its present condition.
Heath was born in northern Utah in 1975, but spent her formative years in southern California. She received her BA in Studio Art from UC Santa Cruz in 1997, a Post-Baccalaureate certificate from the School of the Museum of Fine Arts in Boston in 2003, and her MFA from California College of Arts and Crafts in 2005. Heath relocated from Oakland to San Diego in 2011.
Idiot Or Genius?, Screen Printer
Idiot Or Genius? is a small design and screen printing house run by Fiona Bruce and Miles Stegall out of their home in San Francisco, California. They are known for their richly layered, often humorous design sensibility and for the lush multi-color prints they produce.
www.facebook.com/idiotorgenius
Jill Replogle, Journalist
Jill Replogle recently graduated from the University of California Berkeley Graduate School of Journalism. Before moving to the San Francisco Bay Area in 2007, she worked as a reporter in Central America for seven years, writing for publications such as The Miami Herald, Time.com, The Christian Science Monitor and San Francisco Chronicle, as well as Guatemalan news outlets, Inforpress Centroamericana, elPeriodico and SigloXXI. If you can't find her in front of the computer, or at an interview, try the kitchen or off on a country road on her bike.
Rob Taboada, Furniture Maker
Originally trained by a Shaker master in New England, Rob Taboada has been designing, building and showing furniture for over ten years in San Francisco, Los Angeles and Boston. His contemporary reinterpretations of classic designs reflect his traditional apprenticeship as well as his training in contemporary architecture and furniture design, the discipline in which he received his MFA from California College of the Arts in 2004. Rob Taboada lives and works in Mill Valley California.