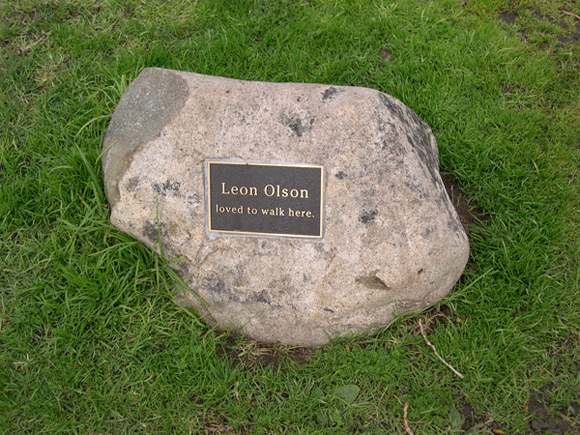 Leon Olson Memorial near the intersection of Lakeside Dr. and Jackson St.
ACKNOWLEDGEMENTS
In General
Numerous plaques marking historic sites, commemorating philanthropic acts, or memorializing loved ones appear throughout the parks surrounding Lake Merritt, but none quite so touching and mysterious as this diminutive tribute to Leon Olson. In many ways it is, both literally and figuratively, the touchstone for this project—a manifestation of the shared social space of Lake Merritt and its significance as a place of convergence. An article about the memorial was published in the Oakland Tribune in 2002.
Once Upon A Time, Happily Ever After… would not be half as good as it is without the talent and dedication of Mike Blodgett and Veronica Graham, whose contributions to the project are substantial. Matt Dibble and Dana Hull were instrumental to the success of the USA Projects funding campaign. The overworked and optimistic staff in the Cultural Arts & Marketing Division at the City of Oakland also deserve credit. In particular Steve Huss, Kristen Zaremba, and Kathy Littles provided valuable feedback and encouragement. Lastly, I want to thank Hilair Chism, whose compassion and support throughout this project was indispensable.
Audio Tour
In addition to the individuals and groups appearing on the audio tour—whose work and contributions provided the raw material and inspiration for this project—numerous others contributed their time and talent to its realization: music consulting and sound engineering by Mike Blodgett of Electric Sparkyland Recording; map design and illustrations by Jesse Eisenhower and Veronica Graham; web programming by Jesse Eisenhower and Kristofer Herzog; interviews for tour stops 3, 14, 15, 19, and 21 by Jill Replogel; booth construction by Rob Taboada of Rob Taboada Furniture; and carriers for the CD players by Debi Laird.
Many thanks to Stephanie Benavidez and the Rotary Nature Center staff for hosting the tour booth; booth volunteers Amber Bales, Meg Escude, Sarah Filley, Alicia Graham, Kelly Graham, Rachel Heath, Barbara Holmes, Debi Laird, Melani Long, Monica Martinez, Jen Rhoads, Rachel Robinette, and David Stein; and Whole Foods for feeding them.
The Once Upon A Time, Happily Ever After…Audio Tour was written, produced, and narrated by Scott Oliver. Additional voices: Stewart Atkinson, Mike Blodgett, Hilair Chism, Vanessa Handley, Dee "Big Dog" Hensley, Barbara Holmes, Evan Jenks, Abe K., Carolyn Matson, Larry Matson, Emily Miller, Mike Miller, Andres Nuñez, Chris Pendergraft, Dina Rubiolo, Andrei Soroker, and Noel Yee.
Music is integral to the audio tour. A great big thank you to all those who granted permission to use their work, and my sincere apologies to those I neglected to ask. The pieces appearing on the audio tour are as follows.
Track 1: "For Birds, Planes & Cello," composed by Miya Masaoka, performed by Joan Jeanrenaud, from For Birds, Planes & Cello.
Track 2: "Trona Summer," written and performed by William Whitmore, from After The Gold Rush; "Deer Song" performed by Linda Yamane, from the Oyate Ta Olowan radio series.
Track 3: Improvised saxophone performed by Rex Suru (live recording).
Track 4: Capoeira rhythm performed by Ginga Mundo capoeiristas (live recording); "El Corrido," written and performed by Los Tigres del Norte, from Corridos Prohibidos; Our Lady of Lourdes church bells (live recording).
Track 5: "Rainbow of My Dreams" and "Tell Me Why," composed by Art Hickman, performed by Art Hickman's Orchestra, from The San Francisco Sound; "Cars & Shoes," written and performed by The Coup, from Steal This Double Album.
Track 6: "Imagine," written by John Lennon, performed by Edwin Bennett (live recording).
Track 7: "When I'm Gone," written and performed by Jimmy McCracklin, from Oakland Blues; "Oakland Blues," words by Ishmael Reed, Composed by Carman Moore, performed by Conjure, from Conjure: Music for the Texts of Ishmael Reed; "Oakland," written and performed by Goodtime Washboard Three, from a self-titled single.
Track 8: "Ode to Olga," written and performed by William Whitmore, from After The Gold Rush.
Track 9: "Panther Party," written and performed by The Black Panther Fugitives, from The Revolutionary Analysis of Sweet Sweetback; "Where Waters Meet," words by Hailee Brumley, composed by Hector Armienta, performed by the Oakland East Bay Symphony, from Crosscurrents: Where Words and Music Meet; "Beside Butterfly Spring," performed by China's Spirit Music Ensemble (live recording).
Track 10: "Swan Lake, Op. 20: Introduction" and "Swan Lake, Op. 20, Act I: No. 9–Finale," composed by Pyotr Tchaikovsky, performed by the London Symphony, from Swan Lake; "Imitating the sound of birds," performed by Robert Filliou, from Fluxus Anthology; "One For Solo Violin," performed by Nam June Paik, from Experimentelles Musiktheater: Fluxus – Happening – Performance; "Radio Music," composed by John Cage, performed by unknown, from Fluxus Anthology; Traditional Venetian song performed by Angelino Sandri (live recording).
Track 11: "Microscopic Animals" and "Harp Attack," composed by Courtney Lain, performed by The Marvelous Museum Band, from The Marvelous Museum exhibition at the Oakland Museum of California.
Track 12: "Schilling Gravy Mixes," from KFWB radio broadcast, January 21, 1966; "Elephants," composed by Courtney Lain, performed by The Marvelous Museum Band, from Music for the Films of H.A. Snow.
Track 13: "Skyroads," performed by Pierlo (http://www.upitup.com); "It's a Wonderful Life" performed by Henry Kaiser, from It's a Wonderful Life.
Track 14: Organ music performed by Rudy DeVos (live recording).
Track 15: "The Honorable Decry of Shit Stall Lean" and "Kalashnikov," written and performed by Extra Action Marching Band, from Extra Action Marching Band; "Iron Butterfly Theme," written and performed by Iron Butterfly, from Heavy.
Track 16: "The Happy Dragon's Tongue," "Jolly Boy Horse," "Willy the Whale," "Fairyland Music (Space Pop)," "The Merry Miller's Cat," and "Fairyland Music (Cowpoke)," recorded and compiled by Melinda Simon & Mark Fay, from Sounds for Little Ones; "Zip-a-dee-doo-dah," written by Allie Wrubel & Ray Gilbert, performed by Sun Ra & his Intergalaxtic Arkestra, from Second Star to the Right (Salute to Walt Disney).
Track 17: "Ankan Och Hackspetten (The Duck and the Woodpecker)," composed by Jerker Johansson, performed by the Oakland Municipal Band (live recording).
Track 18*
Track 19: "Unearthed/Unbound," performed by Miya Masaoka, and "Ainu Welcome Song," composed and performed by Miya Masaoka & Frank Holder, from Compositions/Improvisations.
Track 20: "Innit," written and performed by Kicker, from Not You.
Track 21: "Action at a Distance" and "Sun on 5 at 152," written and performed by Matmos, from The West.
*No music appears on this track.
Souvenirs
Before The Lake There Was Swamp, was conceived of and designed by Veronica Graham and printed by Idiot Or Genius? Buildings, Birds & Brackish Water: Lake Merritt On Foot, is the title of a series of photographs by Rachel Heath. She selected ten of the images to reproduce as postcards. The t-shirts were designed by Scott Oliver and printed by Idiot Or Genius? The following St. Paul's Episcopal students participated in the workshops that generated the drawings featured in the t-shirt designs: Andrew Adams, Claire Adams, Isaiah Baluyot, Adrianna Bartalotti, Graham Brennan, Shane Broome, Nicky Dennis, Rachel Desoer, Maya Dome Venner, Alex Glover, Rose Greer, Elisabeth Griffith, Sasha Gut, Stevie Harvey, Mahala Herron-Rutland, Benjamin Hobi, Mainaz Hussain, Megan Jeffery, Zane Johann, Keyshawn Johnson, Yasmine McCroden, Andy Miller, Miles Montgomery, Isabella Moore, Daniel Ochoa, Maya Payne-Schomaker, Ariel Pearl-Butler, Nick Pingitore, Nick Pleatsikas, Emil Sadek, Katya Sadek, Mark Sadusky, Carmen Sanchez, Jesse Sandler, Evan Shields, Olivia Shields, Katie Smith, Cyrus Stenstedt, Xavier Torrence, Ashley Tsang, and Dallas Watkins. Thanks to teachers Susan Porter and Nicole Start for graciously allowing us into the classroom and facilitating the workshops.
Interpretive Signs
The two-year-plus process of bringing the interpretive signs from initial concept to objects in the landscape involved numerous individuals and a great deal of persistence. Many thanks to the following individuals for their advise and assistance along the way: Stephanie Benavidez for her advocacy and help shepherding the signs through the PRAC approval process; Project DD manager, Joel Peter for his assistance in finalizing and approving the placement of the signs; Dr. Bailey, director of the Lake Merritt Institute, for his advice and assistance with the storm drain markers; and Steve Huss and Kristen Zeremba from the Cultural Arts and Marketing Division at Oakland for their thoughtful criticism.
Veronica Graham did the illustrations for the Lake Merritt & Surroundings and Lake Merritt Watershed maps. Information for the later was culled from the OMCA publication, Creek & Watershed Map of Oakland & Berkeley by Janet M. Sowers, and GIS maps provided by the City's Environmental Services Division. Betty Marvin, Head of the Oakland Cultural Heritage Survey, consulted on the neighborhood names in the Lake Merritt & Surroundings map. Information on the Lake Merritt Panorama map was gathered from three sources: the Lake Merritt Institute, The Weather Channel website, and timeanddate.com. Joel Peter provided the depth contours used in the Walking Lake Merritt map.
Almetek Industries Inc. fabricated the storm drain outlet markers. KVO Industries Inc. fabricated the map-signs and Hellikson Design & Mfg. installed them.