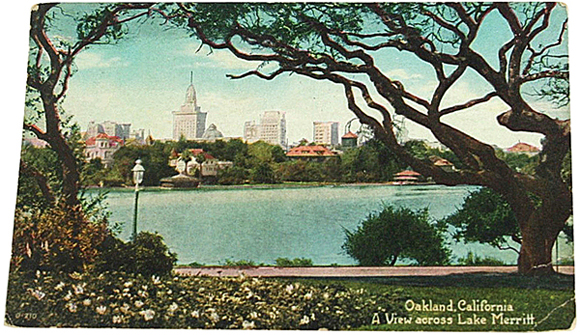 City Hall dominates the Oakland skyline in this hand colored postcard, ca. 1920.
LAKE MERRITT SOUVENIRS
A series of limited edition souvenir items for Lake Merritt are being developed as part of the Once Upon A Time, Happily Ever After… project. These will be available for purchase from this website and at the project booth housed in the Rotary Nature Center beginning September 15, 2010. Items include: a screen printed map of Lake Merritt and environs drawn by Veronica Graham, a picture postcard series featuring photographs by Rachel Heath, t-shirts featuring drawings and typography by 6th graders from St. Paul's Episcopal School, and a CD compilation featuring recordings by local musicians appearing on the audio tour. Please stay tuned for updates.